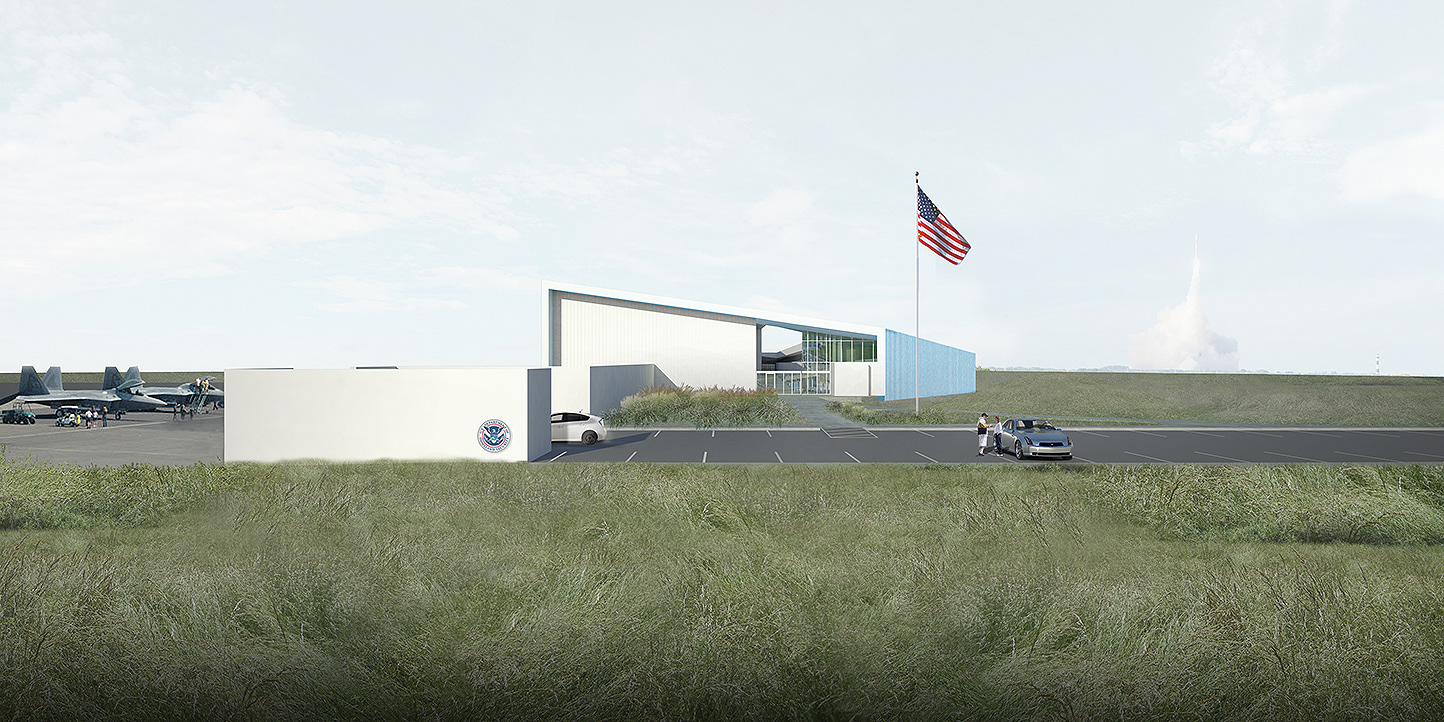 Administrative Ground Support Facility for the United States of America
Project Details
Project's Formal Name: United States Administrative Support Building
Location of Project:                                     Cape Canaveral, FL
Client/Owner: United States of America
Total Square Footage: 29,300 sq. ft.
Completed: 2013
Cost: $12,300,000.00(US)   
Architects: BROOKS + SCARPA
Location of Architect: 4611 W. Slauson Ave
Los Angeles, CA 90043
Project Team: Lawrence Scarpa, FAIA - Principal- in-Charge. Angela Brooks, AIA, Mark Buckland, Ching Luk, Project Architect, Diane Thepkhounphithack, Brooklyn Short, Todd Spangler, Emily Hodgdon- Project Design Team.
Engineering: BRPH – Structural, Mechanical/Electrical and Plumbing Engineering, Brooks + Scarpa –Landscape, Stantec-Civil
Construction Manager: USA General Services Administration
Description:
This Federal Building is designed as an administrative ground support facility for the Department of Homeland Security Air and Marine Facilities and the Customs and Border Protection Agencies of the United States of America.  The 29,000 sq. ft., $12.3 million facility is a high-level secured building that contains aircraft support services and hangar space for maintenance of high security aircrafts.  Due to security requirements similar buildings of this type rarely are allowed to have windows, views and natural light.  Once the design team understood the security limitations they searched for invention and analysis that would push beyond the preconceptions of this building type.  The design team worked together with The Department of Homeland Security to create a secured external, but central breezeway that allows for natural light, air and exterior views from the building while maintaining the strictest level of security and privacy. Perimeter glass located outside of the secured breezeway is strategically placed just under the roof line, high above the security zone. This shared breezeway also acts as the main entry to the facility as well as to divide the building program into the two required security zones between the hangar and administrative functions.  This approach allows for a more open light filled environment and virtually eliminated the need for multiple secured and bullet resistant doors to the various parts of the building.  As a result the building embraces the mission of the Federal Design Excellence Program's guiding principals to provide a secure, safe, functional and welcoming facility that represents the best in American architecture.